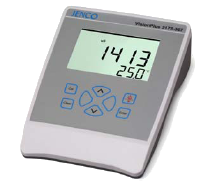 Jenco 3175 Included
Conductivity/TDS/Temperature benchtop meter, with an extra large LCD display, adjustable cell constants K=0.1, 1.0, 10.0, programmable temperature co-efficient and reference temperature. Battery or 115/230 AC powered. CE approved.
Clear, large LCD display (4 1/8 x 3 1/16 in.)
Displays conductivity and temperature or tds and temperature readings at the same time
Accepts 2-wire conductivity cells with adjustable k=0.1, k=1, and k=10 cell constants for improved flexibility and accuracy
Auto or manual ranging of 3 conductivity ranges are available for improved usability
Convenient one point calibration w/ data stored in memory - ready for use on power up
Readings are automatically compensated for temperature (ATC); meter automatically switches into manual compensation when temperature probe is not present
Automatic lock mode is available to lock in stable readings
Intuitive operation with membrane keypad with tactile and audio feedback
Splash resistant case is made with durable, reinforced plastic for added protection; protective covers for connectors are included
Large LCD is offset for improved protection against unintentional damage
Smaller case does not clutter valuable desk space
8pin DIN connector for conductivity cell & 10k thermistor
AC adaptor or battery
Temperature or compensation probe with 3 ft. quick disconnect cable
Click on the photos to enlarge.